We are supporting our community across all life stages, nurturing our volunteers, and expanding our welcome and accessibility.

   Click here for the consolidated ministry volunteers schedules.
Announcements and Communications
---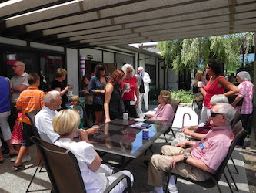 St. Jude's keeps us informed about church and larger community happenings, primarily through the following:
Weekly Announcements: Click here for our weekly listing of news and events happening both here at St. Jude's and in our wider community.  Click here to see our all meetings and events happening on our campus this week. To submit an announcement (of 50-words max and by Tuesday, 9am), send an email to the office.
Sunday Worship Bulletin: Find the upcoming weekly bulletins on our Worship page, under the "Sunday Worship" Accordion.
The View from the Orchard is our newsletter, with insightful articles from our clergy, more in-depth news about our church community, and more. It is sent out electronically and may be mailed upon request. Click here for the most current View or here to go to the archive.
Subscribe to MailChimp to receive invitations to our gatherings for worship, service, and fellowship.
  St. Jude's has an extensive library on a variety of topics. To see a complete list of our books, please click here.
Clergy Transition
---
Click on each post to read the full content.
UPDATE: The parish profile has been developed and can be seen here! If you are a candidate for our Rector search, welcome! Please click here for more information. Vestry met on June 18 to review and discuss the draft Parish Profile. We were incredibly impressed with...
Caring, including Prayer
---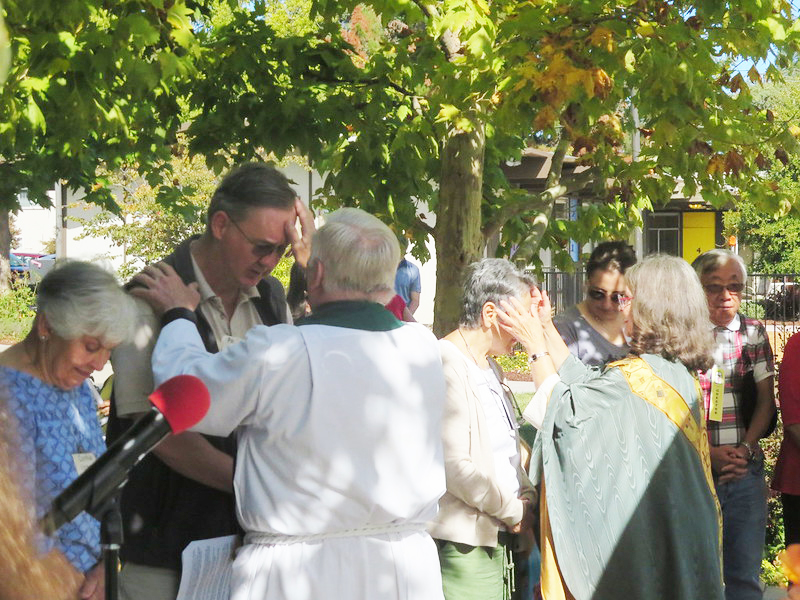 Prayer and Spiritual Resources you may find helpful:
Our sanctuary is open for prayer
Our labyrinth is available for prayer from sunrise to sunset
Morning Prayer is offered on Tuesdays at 9:15am or on your own. Pamphlets (click here) are available near the Apricot Window in the sanctuary.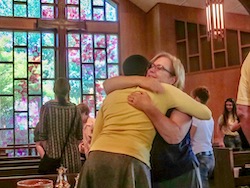 We offer support and care for one another through our caring ministries listed below:
Baptisms are available four times a year, for babies, children, youth or adults. Confirmations or receptions generally take place once every two years.  Contact our clergy for more details.. Contact the office to learn more. Click here for the baptism form.
Clergy visits are available for more conversation, pastoral are or urgent support.
Coffee Hour Hosts serve coffee, tea, and light snacks in the Parish Hall immediately following worship.
Eucharistic Visitors (EVs) help people who cannot attend church feel they are part of St. Jude's and the community though sharing of Word and Sacrament.
Funerals and Memorials: Contact the office to learn more. Parishioners and their families may be interred in our environmentally-sensitive and beautiful Memorial Garden.
Intercessory Prayer is offered regularly by faithful pray-ers.
Ministry Highlights allow volunteers to share their ministry joys or highlights during Sunday services.
Newcomers Ministry welcome newcomers and visitors to St. Jude's and facilitate integration in parish life as desired.
Stephen Ministers provide confidential one-to-one Christian pastoral care, encouragement and support to individuals going through a difficult time.
Weddings (and receptions)
For pastoral emergencies after regular business hours, contact St. Jude's at (408) 252-4166.
Caring Resources you may also find helpful:
Advanced Health Care Directive: An AHCD informs loved ones and medical caregivers of your medical wishes if you are unable to speak for yourself. Click here for printable documents. A more "friendly" version can be found at Five Wishes (http://fivewishes.org)
Memorial/Funeral Wishes: This form communicates your wishes with loved ones and St. Jude's. Click here for printable document.
Adults, including Young Adults
---
These groups are a great way to meet new people at and form closer connections with other parishioners at St. Jude's. Contact the office or
ministry leaders
for more information.
St. Jude's supports every stage of adulthood, from young adults to retired seniors. Our ministry groups for adults of all ages include:
Covenant Groups meet regularly for deeper personal study and relationships. The groups discuss the Bible, support one another on their spiritual journeys, pray for each other, and socialize.

Library resources are available for lending, with select items offered in the Parish Hall and a full selection in the Farmhouse. Search our offerings here.

Parent Support Group meets Thursdays 10am-Noon in the Farmhouse. This group helps when you are "never alone but always alone." Children are welcome.
Sunday Bible Study: A lively gathering of adults reading, studying, and discussing books of the Bible with clergy.
Sunday Community Forums: Held on scheduled Sunday mornings 9:15-10:15am in the Parish Hall, our community forums highlight a variety of topics. To listen to the most recent forum or older forums, click here.
Wednesday Book Group meets from 1-2pm to discuss (roughly) one book a month using critical and scholarly literature on Christian theology, scripture, and ecclesiology as a springboard for contemplation of their own faith. Brown bag lunch optional.
Young Adults meet monthly to build community over meals, games, documentaries and discussion, and more.
Children and Youth
---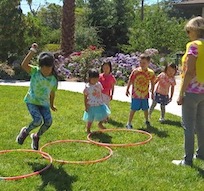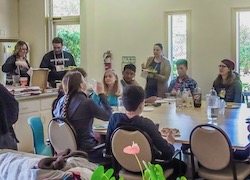 Children and Youth offerings support their spiritual and relational formation in fun, interactive, loving ways.
Children: Click here to learn about offerings during Sunday worship.
July Vacation Bible Camp: All children are welcome! Children enjoy play, stories, singing and much more during the week-long themed camp held on our campus. Signups for the camp are usually available in April of each year. For more information, please click here.
Pre-teens and Teens: Click here to learn about offerings for youth grades 6-12.
Library resources are available for all ages in the Farmhouse. Search our offerings here.
Visitors do not need to register, but we ask that those parents who have children who will come more than once or twice register their children each year. There are several forms for registration. Click on these links for a printable Registration form, Media Consent form, Code of Conduct form, and our Diocese Policies for Children and Youth. Signed paper copies of these forms should be returned to our office.
Community Life
---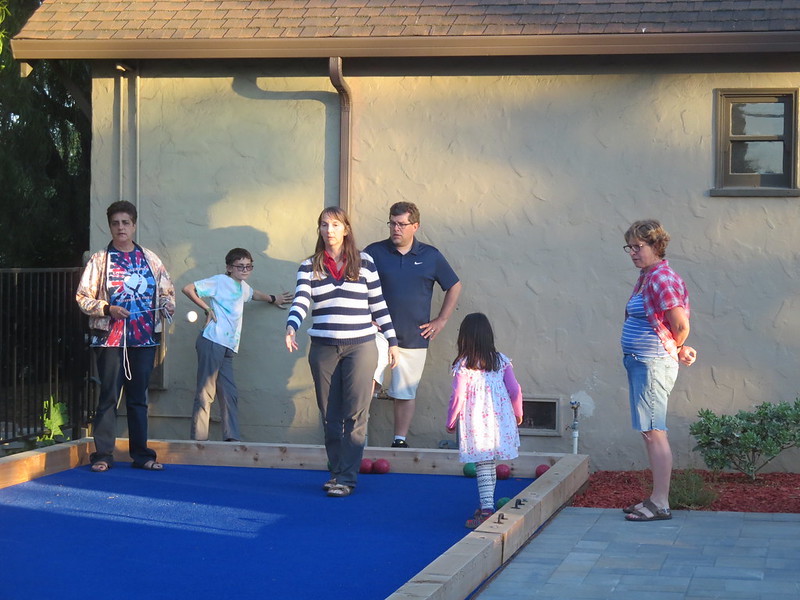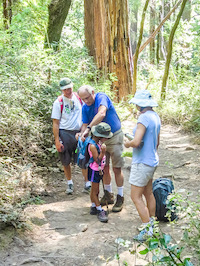 We enjoy casual, relaxed fellowship across all ages. Some opportunities include:
4th of July BBQ and Talent Show: Held in our courtyard, this is an entertaining and sociable way to celebrate the holiday.
Brown Bag lunch with the Rector: Enjoy conversation with the Rector on the third Thursday of the month, Noon-1:30pm, in the Fireside Room.
Men's Getaway: Each fall, the men of St. Jude's are invited for a fun, relaxing getaway weekend in the mountains with plenty of activities available.
Parish Camping Trip: Over Labor Day Weekend, St. Jude's households and friends enjoy tent camping together. Usual sites for camping are Big Basin or Portola Redwoods Parks.
Small Dinner Groups meet regularly for dinner and fellowship, with a rotating host.
Summer Potlucks under the Arbor: Enjoy a potluck meal outside on Wednesday evenings in the summer.
Special Receptions in the Parish Hall or Courtyard are offered on occasion.
Women's Luncheons are coordinated about once every six weeks, around noon, at a local restaurant.
Women's Weekend: Each spring, the women of St. Jude's are invited for a fun and activity-filled getaway weekend.
All are welcome at our gatherings!
Worship Ministries
---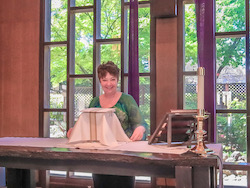 Ministries are a great way to meet new people and get involved in our church. We'd love to have your help! Please contact the office or
ministry leader
for more information.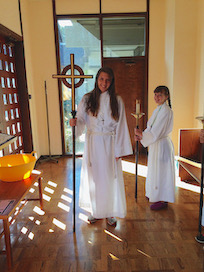 We gather regularly to worship together, with the following ministries creating and supporting our worship:
Acolytes: Adults and teens help clergy during 9:30/10:30am Sunday worship and seasonal worship.
Adult Choir and various Musicians: Music is core in our worship. Choir practice is weekly. New choir members and musicians welcome. Contact the Music Director for details.
Altar Guild prepares the Altar and chancel for worship and special services.
Children's Choir offers special music on occasional Sundays throughout the year.
Communion Bread Bakers of all ages bake bread for all communion services, to offer alongside gluten-free wafers.
Counters count, sort, record, and deposit financial contributions.
Eucharistic Ministers (EMs) support clergy in serving at the Altar, offering holy communion, reading Scripture, and/or leading the Prayers of the People in worship.
Flower Guild volunteers beautify the church for the enjoyment of everyone.
Greeters extend a great welcome to everyone joining for worship, and Hosts offer additional support to visitors and new members.
Readers read Bible passages during worship.
Sound System volunteers ensure all are able to hear in worship, including those with hearing aids.
Ushers distribute bulletins and help during worship as needed.

St. Jude the Apostle Episcopal Church
20920 McClellan Rd.
Cupertino, CA 95014
(408) 252-4166