There have been reports in the news about Zoom bombing, which have made some people reticent about sharing their meeting links on Zoom publicly.  Though this is not common, here are some ways to remove a Zoom bomber from your meeting and help prevent getting one before he/she shows up.  (Note, all the pictures can be made larger by clicking on them.)
One other note: Most St. Jude's Zoom meetings are a public platform–other people are in them, and some participants may not be visible to attendees other than the host. It's best that personal information of a sensitive or financial nature is not divulged unless necessary. 
To mute, turn off the video, remove or put a participant on hold during a Meeting
During the call click on "Manage participants" in the bottom toolbar (see black bar, below). You should be the host of the meeting in order to have full control.

A list of participants will come up on the right side. You can mute them by clicking the Mute button  next to their name.  (See picture, below)
To stop their video, put them on hold, or remove them, hover over the person's name you are concerned about, and click on More ⌄ next to their name.  You will get a list of options to choose from.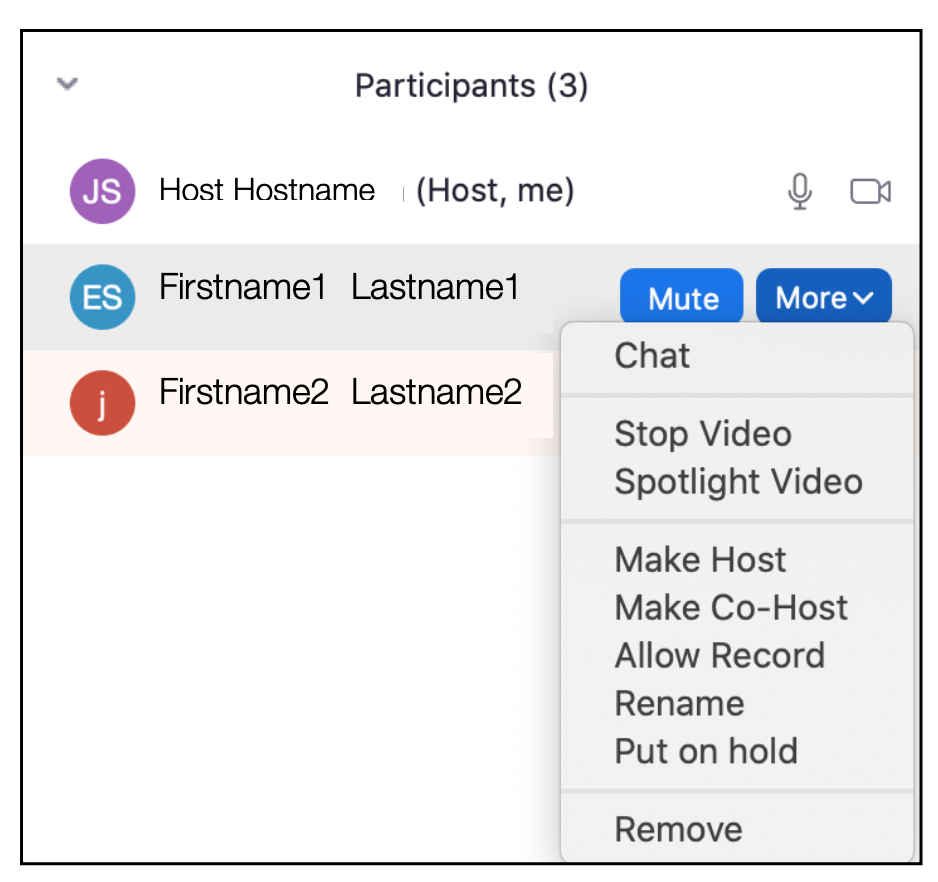 By default (if you changed your settings as recommended below), an ousted guest cannot rejoin. What to do if you make a mistake? It is still possible for that person  to rejoin. Enable this feature by opening another window and going to the Zoom web portal at zoom.us  (not the Zoom desktop app).  Navigate to
 Settings > Meeting > In-Meeting (Basic). Toggle on the setting called Allow removed participants to rejoin. 
The option to mute everyone at once is also at the very bottom of the participant list, at the bottom of the pane, under More ⌄.  There are other options as well that may be useful, such as muting participants as they enter and not allowing them to unmute themselves (you, as host, would need to do this if you wish for them to be able to verbally respond).  Another great setting to use is if all your meeting attendees have arrived, click Lock Meeting.  This means no one else can get in, even if they have the link. (See box below.)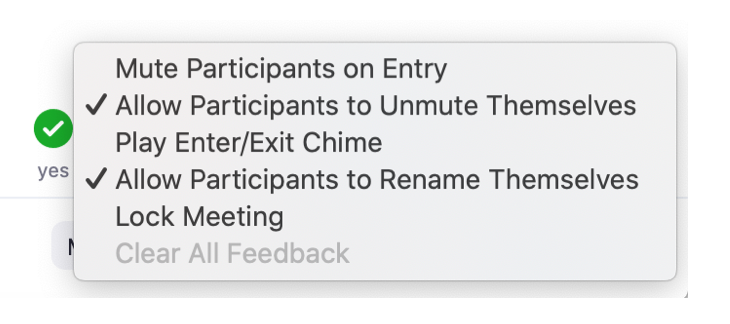 Recommended Meeting Scheduling options 
There are some settings when you schedule a meeting that will help with Zoom bombing.
⤑ Always use a unique ID and not your personal ID (PMI) for meetings. This makes it harder to go into the meeting, as the Zoom bomber needs to find the link each day or each week. (See box below.)
 There are also other settings to use during meeting scheduling that can help, but may reduce attendance.
⤑ Require a password when you set up the meeting 
 This is useful, may reduce attendance as it requires guests to keep track of another number, and presents another barrier to entry for those less technically savvy. In addition, another issue is that it is not effective keeping anyone out if it is just listed with the meeting ID and link.  It would have to be sent or listed separately.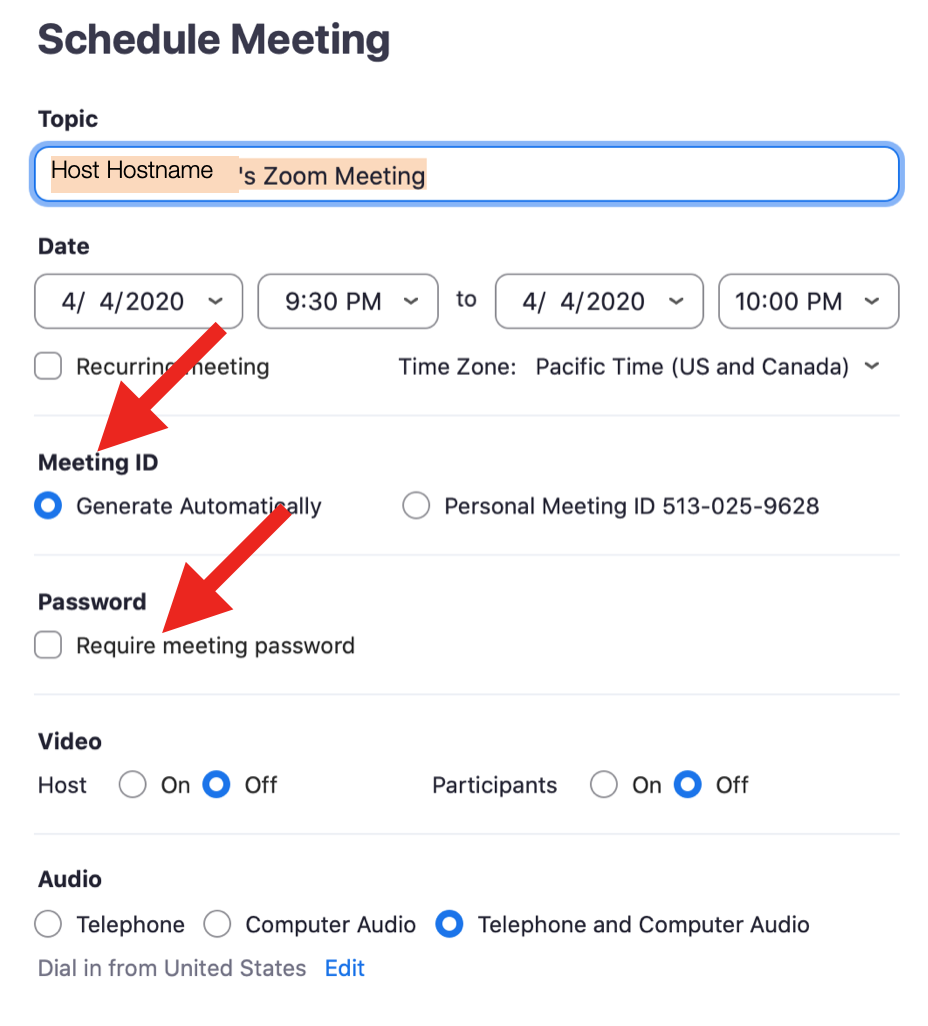 ⤑ Create a waiting room for before the meeting
This makes all participants wait until you join the meeting. It prevents them from talking before the meeting, but also doesn't allow anyone to maliciously say anything, either.  It can be useful feature if greetings etc are not needed before a meeting starts.  It can be turned on for individual meetings under Advanced Options at the bottom of the Schedule Meeting page. (See box below.)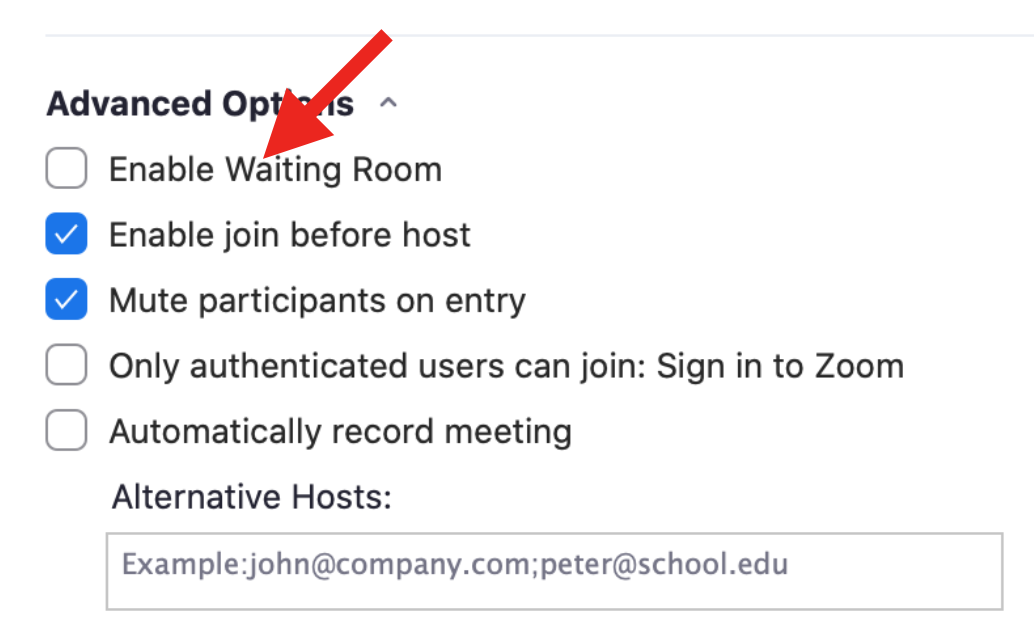 Recommended Global Settings to change before you go into your meeting*
*Note: Saint Jude's settings for the meeting@saintjudes account already include the changes, as appropriate.
There are some settings in Zoom that are useful to change to prevent Zoom bombing. All of these are reached via Settings > Meeting via the zoom.us web portal (not the desktop app), in a long scrolling list.
Change the toggle on the following:
⤑ Allow removed participants to rejoin
Allows previously removed meeting participants and webinar panelists to rejoin (Turn off)
⤑ Annotation
Allow participants to use annotation tools to add information to shared screens (Turn off)
⤑ Whiteboard
Allow participants to share whiteboard during a meeting (Turn off)
⤑ Remote control
During screen sharing, the person who is sharing can allow others to control the shared content (Turn off)
⤑ Disable desktop/screen share for users
Disable desktop or screen share in a meeting and only allow sharing of selected applications.  (Turn this on, if sharing is not needed.)  
This option can be changed during the meeting easily. Click on the up arrow ⌃ next to Share Screen, then choose Advanced Sharing Options. You can then change who can share under Who can share. (See box below.)
 ⤑ Chat
Allow meeting participants to send a message visible to all participants (turn this off, if not needed)
⤑ Private chat
Allow meeting participants to send a private 1:1 message to another participant. (turn this off, if not needed)