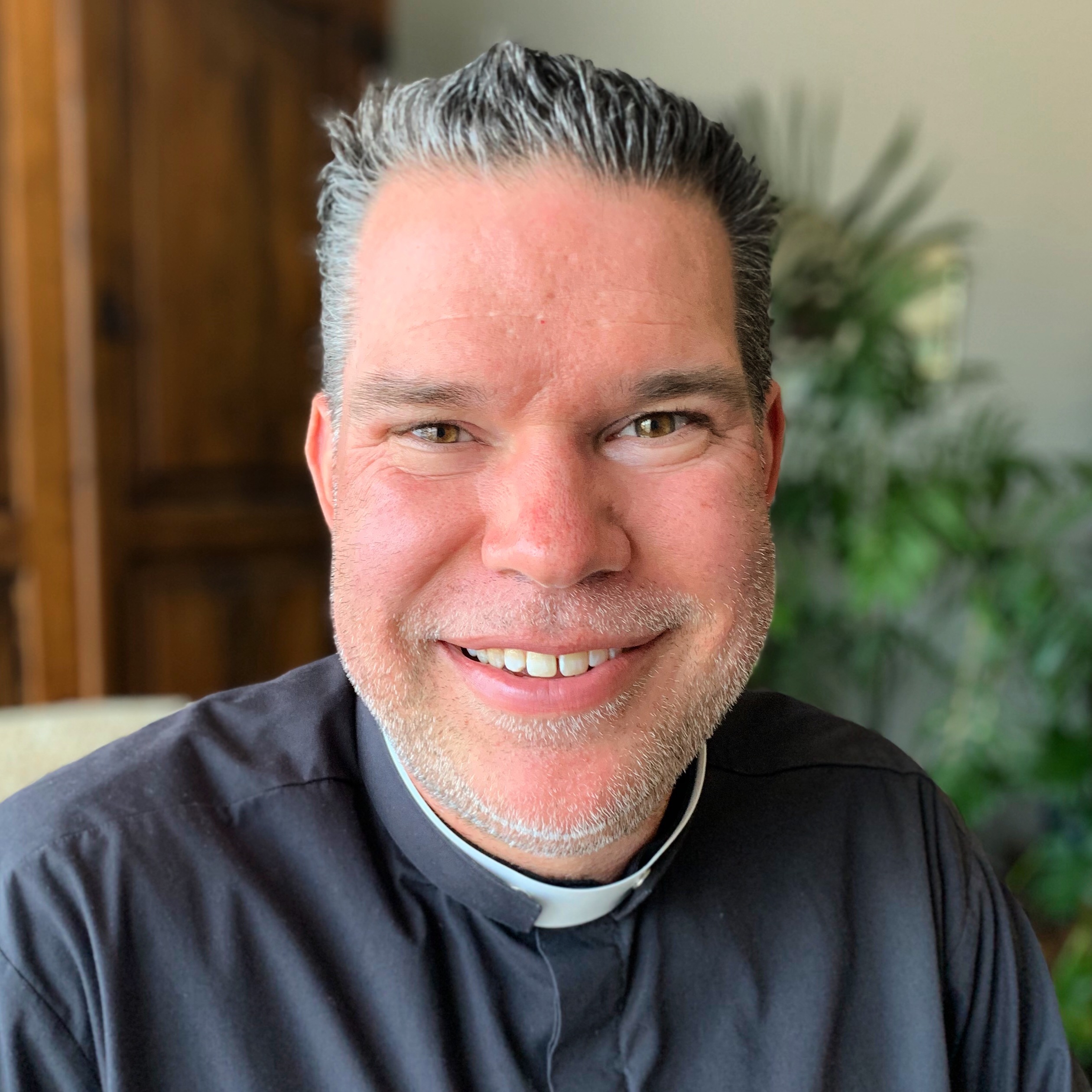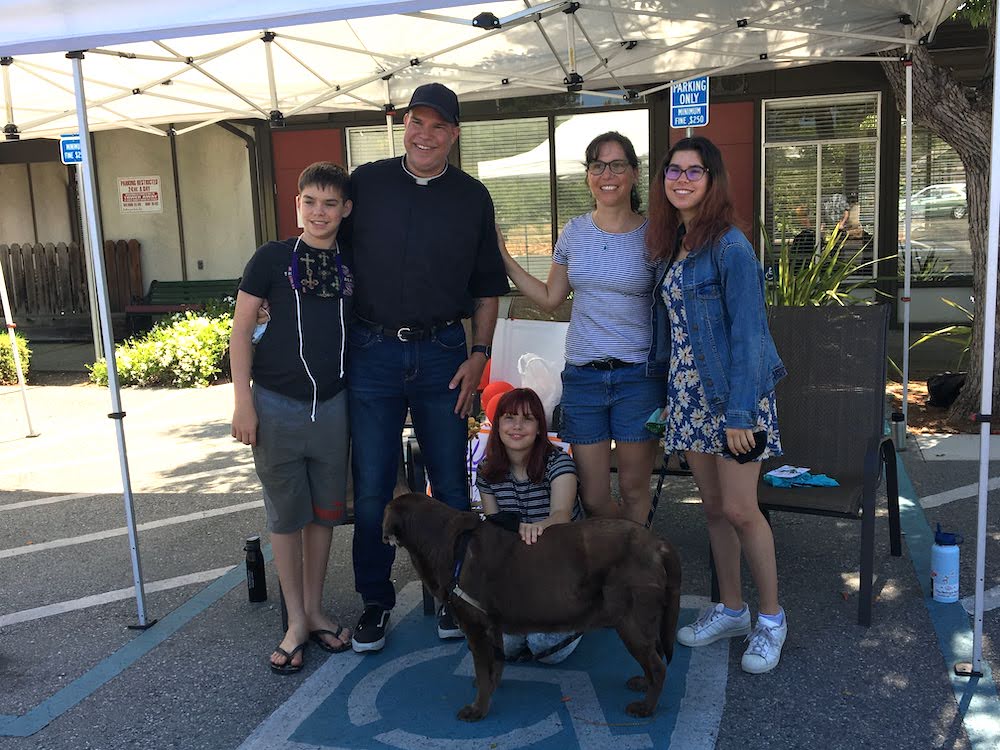 Introducing the next Rector of Saint Jude's!
Dear members of St. Jude's,
It is with great pleasure that I am excited to announce that the vestry has unanimously called Aaron Klinefelter of Trinity Church, Menlo Park to be our next rector.  He has accepted the call, and our Bishop has approved!
The quality of the candidates coming to the vestry from the search committee was amazing, and the vestry spent many hours in prayerful discernment before making this call.  It is my belief that the Holy Spirit was moving among us.
Aaron's enthusiasm for the Gospel and for us was palpable in every interaction with him.  He is fully versed in the thoughtful language of inclusivity, and modern Episcopal liturgy.  In addition to being a master gardener, he brings with him the experience of having previously started "house churches" near Cincinnati.
Aaron's first day with us will be July 1st.
I'm sure that everyone is as excited to meet Aaron as I am for you to do so, but I request that you please give him and his family some space to end his current pastoral relationship at Trinity Menlo Park, move, and prepare to begin a relationship with us.  I know it's possible to find ways to contact him on the internet, but I ask that until July 1st, if you need to contact Aaron, you please send the communication through me first.  You may reach me at: beth@slimy.com or 408-835-0631 (c).  Rest assured that the current clergy and I are in contact with him and preparing for a smooth transition.
If you know of someone with a 4 BR house or condo to rent within biking distance of the church, please contact me, and I will pass the message on.
If you would like to volunteer to be a part of the welcome committee for Aaron, please contact me.
Please join us for coffee hour Sunday morning May 24th at 10:30am after the service to ask questions of myself and the vestry members about Aaron. This is the zoom link: https://us02web.zoom.us/j/86406938044. You may also join the meeting via telephone by calling: (669) 900-9128 and typing in meeting ID: 864 0693 8044
With great enthusiasm,
–Beth Leonard
 Senior Warden, St. Jude's Church
Greetings from our new Rector
Greetings St. Jude's!
I am so excited to be your new Rector. I'm looking forward to getting to know each of you and for us, together, to discover God's call and dream for our parish and our community. Even in this time of COVID-19 and all the challenges that it brings, I am convinced that there is new life growing in our midst. We'll officially begin our work together in July, but please know that I am holding you in prayer and in my heart through this next month. I love how your Mission Covenant frames God's call to us,
We seek to be visible and engaged in sharing Christ's Love with those around us. We have energy and faith and a willingness to engage and we ask for God's direction in supporting our community.  Above all, we want St. Jude's to be known as the church in Cupertino that puts faith into action.
I am eager to work together to put faith into action. We are called to life-changing, love-proclaiming, and liberating work. We can do this. We get to do this. And I am thrilled that we are going to do this together.
Here is a bit about my story up to this point. I grew up in Paris, Kentucky, a small town nestled in the rolling hills of horse farms and, back then, tobacco fields. My parents were teachers and continue to be faithful members of their local United Methodist Church. My grandfather was a missionary pastor and one-room school teacher in the mountains of Appalachia. His witness and example first kindled in me a call to ministry. That call began to unfold in my work as a youth minister and Christian educator in an urban United Methodist Church in Hamilton, Ohio; it morphed into serving an Emergent Church and network of house churches in Cincinnati; it then took shape as a college campus minister where I worked to start community gardens. This call of the Spirit led me into the Episcopal Church where I served families and young adults. It drew me to the Bay Area for seminary at the Church Divinity School of the Pacific in Berkeley and eventually to Trinity Church in Menlo Park where I've served for the last three years. Now, of course, the Spirit's call has led me to St. Jude's. I am eager to get to know your story and the story of St. Jude's.
During this unique time of COVID-19 and the implications it may have on the Church, I would like to highlight one piece of the winding road of ministry that has brought me to this place. While in Cincinnati, I served as a pastor of Vineyard Central, an Emergent Church and network of house churches. The ministry of the church meeting together as small groups in each others' homes is a rhythm to church life that has arisen again and again throughout our history. Given the challenges of meeting together as a whole parish during this pandemic, one way that may become open to us in the coming months is to re-engage in this ancient practice. 
There is so much more that we will sort out together as we respond to the unique opportunities and obstacles that COVID-19 presents. I know our Vestry and the faithful clergy serving St. Jude's during this time of transition have been hard at work moving worship online and re-orienting parish life in the last two months. We will certainly continue live streaming services and thinking creatively about how we are the church in this new land. 
Our family is looking forward to moving from Redwood City down to Cupertino and getting to know you all. Our family is composed of my wife, Sarah, our three children: Cloey (16), Timothy (12), and Elizabeth (10); our beloved dog, Journey and sweet rabbit, Jasper. We look forward to traveling the road ahead with you.
Blessings to you and to our journey ahead. I am thankful that this journey is one we get to take together!
In Christ's Extravagant Love,
Rev. Aaron