We know that a lot of the livestreaming and meeting technology is new to everyone. We hope that this information is helpful to you in answering your questions. If you have further questions, please contact Jennifer at web@saintjudes.org.
Have another question not listed? Fill out the small form below!
Do I have to have a Facebook account to watch the Livestream?
No. You can always watch the livestream, though you won't be able to add to the chat/comments if (1) you don't have a Facebook account AND (2) join the St. Jude's Episcopal Church group with your personal Facebook account. If you do not wish to do these things, but still want to have input on the service, it is recommended that you text or phone a St. Jude's friend to put in your prayer requests, celebrations, and let us know you are watching!
If I missed the livestream, can I watch it later (or again)?
Yes, once the video is recorded, it stays on the St. Jude's Episcopal Church Group Facebook page timeline. You can go there, or you can click on the link below which takes you to our website page where all the videos are published a day or two after they are recorded:
When watching a livestream on Facebook Live (such as for Sunday service), how do I comment on the chat?
Click on the livestream video, which will open it larger and provide a comment window to the right.  You will need to both have a Facebook account and join the St. Jude's Episcopal Facebook group if you wish to add comments. If you do not wish to do these things, it is recommended that you text or phone a St. Jude's friend to put in your prayer requests, celebrations, and let us know you are watching!
Can you make the livestream more robust?
This is largely a function of your internet connection speed and/or provider. Video takes a lot of bandwidth. Also, some mobile devices stop sending livestreaming video after awhile if you haven't touched the screen lately.  If your livestream or the audio stops, the best bet is to refresh/reload the screen by clicking on the "↻" refresh arrow next to the website page (www.facebook.com etc.).  Don't forget to click the play arrow (▶︎) on top of the video if you have clicked through from the post or made it larger on your screen.
Can we find a way to see the music and words while still watching the service?
The service bulletin from now on will have all the words and music, so that you will be able to follow along (and sing!) while you watch the service. 
We encourage you to open two windows on your computer at the same time and put them side by side (resize using the arrow at the sides so one is on the left, and one on the right). One window will have the livestream, and the other can have the bulletin so you can follow along. Some people also use two devices (iPad and computer, for example) or print out the bulletin.
Can the link to Sunday's services (or other Facebook Live broadcasts) be posted earlier to the St. Jude's website?
Until we go "live", we don't have the direct link, and we can't do that until we get everything set up.  The direct link will be posted as early as possible to the website before the service. That's usually only a couple minutes before.
If you want to be there early, go to the St. Jude's group Facebook page, and it will automatically show the video when it is available. You will not need to go back to the St. Jude's page to get the direct link. Here is the link for that: https://www.facebook.com/groups/151877648272/
If you do decide to wait for the direct link, you likely will need to refresh/reload the home page every minute or so until the link is live. If you do not reload, then the link will not become live until you do.
Can we use a different platform than Facebook for our video streaming?
We've looked into a few platforms, but nothing has come forward that seems to be better to reach the maximum number of people easily. We are working on using Zoom meetings for their functionality of having multiple people showning up on the livestream. (Zoom shares its data with Facebook, as do many other conferencing platforms, so using those does not solve the issue of avoiding Facebook entirely.)
We need to be mindful that these technologies are new to most all of our parishioners and our clergy. Getting our livestream going on another platform requires much time and effort (much like this one did) which we just haven't had yet. We will continue to investigate other solutions that may be more appealing to some of our congregants yet still allow the most people possible to see the livestreams and participate in worship.
Still have a question about any issue? Fill out this form to get answers.
Do I need a Zoom account to be in the meetings, such as Virtual Coffee Hour?
Yes, but it is a 1 minute signup and only requires your email address. To go into a meeting, just click on the meeting link after you have signed up. (You can also call in without video). Go to https://zoom.us if you wish to signup in advance of your meeting.
What if someone is talking in my house or there are other noises? Also, do I have to be on camera the entire time I am in the meeting?
You are able to both mute yourself (recommended unless you are talking), and turn off your camera at any time.  It's recommended that you keep yourself muted unless you are actively paricipating in the conversation.
To mute yourself, click on the bottom toolbar on the left where it says "mute". It's a toggle on/off, so when you want to speak, turn it back on. (See yellow arrow in picture below, click to make larger)
To turn off your video, click on the bottom toolbar button second from left that says "video".  This is again a toggle on/off, so click it again when you want your camera to come back. Keep in mind if you have this off, it can be difficult for others to know when you want to speak as there will not be any visual clues for them. (See yellow arrow in picture below, click to make larger)
How do I see everyone that is in the meeting?
Click in the upper right corner of your screen where it says "Gallery View".  This toggles back and forth between Gallery (thumbnails of all speakers) and Speaker View (big picture of the speaker, with a couple small thumbnails at the top).
If there are more than 16 people in the meeting, there may be multiple pages. Hover over the screen and you will see a  >  to go to the rest of them.
Below is a picture showing where to click to get Gallery View on your screen (click to make larger).

If I only want to see the person speaking or playing music, how do I do that?
1.  Mute yourself by clicking Mute on the left side of the bottom bar (see more information above on how to mute yourself).
2. Choose Speaker View at the top right if you changed the default and went to Gallery View.  If you didn't do this, then skip this step.

3. Go to full-screen mode by clicking the broken square in the upper right corner (see picture below).
4.  Click the "–" above the thumbnail pictures to close them while keeping speaker open.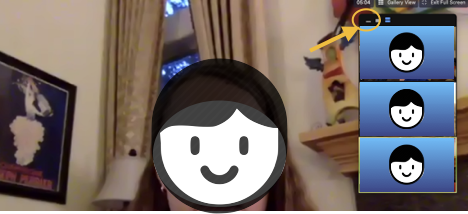 Can we chat (text) in the meeting without talking aloud?
Yes, there is also a chat function. The box for chat is opened when you click on "Chat" on the bottom bar. You can send texts to everyone or to a specific person only. Unless someone has their chat open, they may not see your texts, though there is an indicator above the chat button to let them know someone has texted them.
How can I improve the sound in my Zoom meeting, especially for music?
Ken Foot has created a useful guide to improving your sound in Zoom meetings. Click here for that information.
Can I screenshare to show everyone a document while in the chat?
Yes, this is possible, but there are a couple important things to consider before doing this.
First, you will need to allow Zoom a permission, which is to see what is on your screen while you are in Zoom and while the app is closed. Second, you should be very comfortable with the technology, as it takes some clicks to go back and forth between the documents and the view of you. (This can also be disrupting for a contemplative service.) Lastly, it can be difficult for viewers to see what you have screenshared (so make sure the type is big), depending on the size of your device and also the size of the device for someone on the other end.
Another option could be to upload your file into a google drive (or create it in your Google Drive) and then share the link via the Zoom chat and/or beforehand. This can then be opened in another window.
If you'd like to screenshare, then here is how you do it. First, allow Zoom to access your screen. On Macs, this is found under System Preferences/Security & Privacy/Privacy. You will need to click the box that allows Zoom to record the contents of your screen. Then, click on the bottom toolbar on the screen where it says "Share Screen" for what files to show on the screen during the meeting. (It is recommended that you try this out in a meeting of your own before doing it in a meeting with others. To start your own meeting, go to https://zoom.us and sign in.)
How do I livestream my meeting from Zoom to Facebook Live?
Follow this link for step-by-step directions available here on the St. Jude's website.
We hope you will join us soon for a livestream or meeting–for the first time or again!