St. Jude's has been a thriving, vibrant congregation since 1962. Over time, there have been many physical changes to the grounds at St. Jude's, but our church has not changed in its commitment to caring for each other and our wider community.
We welcome everyone to join us for events or as members in our congregation as we learn to live as disciples in a modern world, continuing to mature spiritually as a people and thrive as a faith community.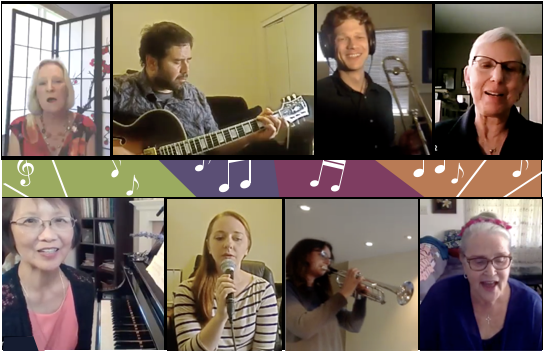 With the pandemic restrictions, St. Jude's has continued our vibrant worship and kept our close community ties but now use new tools! Above are some stills from our online Zoom 2020 Easter Musical Celebration.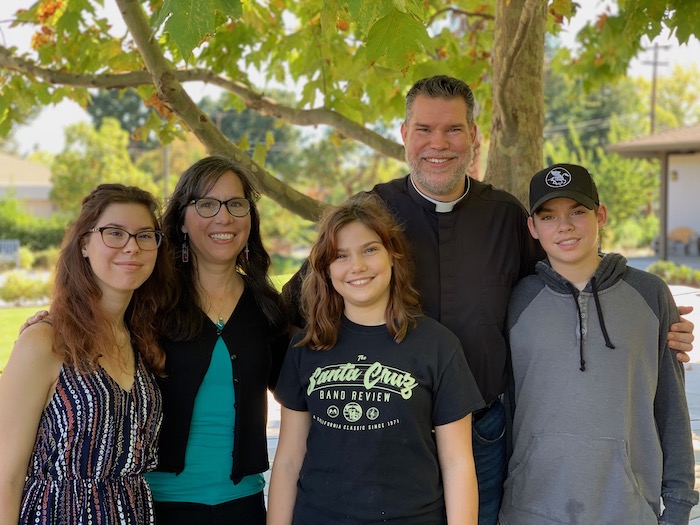 In June 2020, we welcomed Aaron Klinefelter as our new rector of St. Jude's. We were happy to also meet his family who has joined him here in Cupertino (from left): Cloey, Sarah, Elizabeth, and Timothy.
1962 procession, when St. Jude's was founded. The farmhouse (now our office) is shown in the background. Later, this grassy area became a parking lot and today it is our courtyard with the fountain and labyrinth.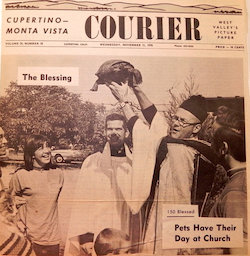 An early pet blessing from 1970. We still have a pet blessing service every October (but turtles continue to be unusual).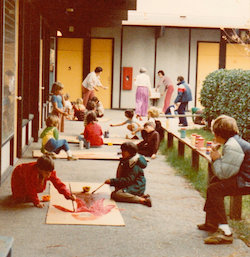 Our classroom wing in 1979 with children of St. Jude's. This area has recently been renovated, including a new playground.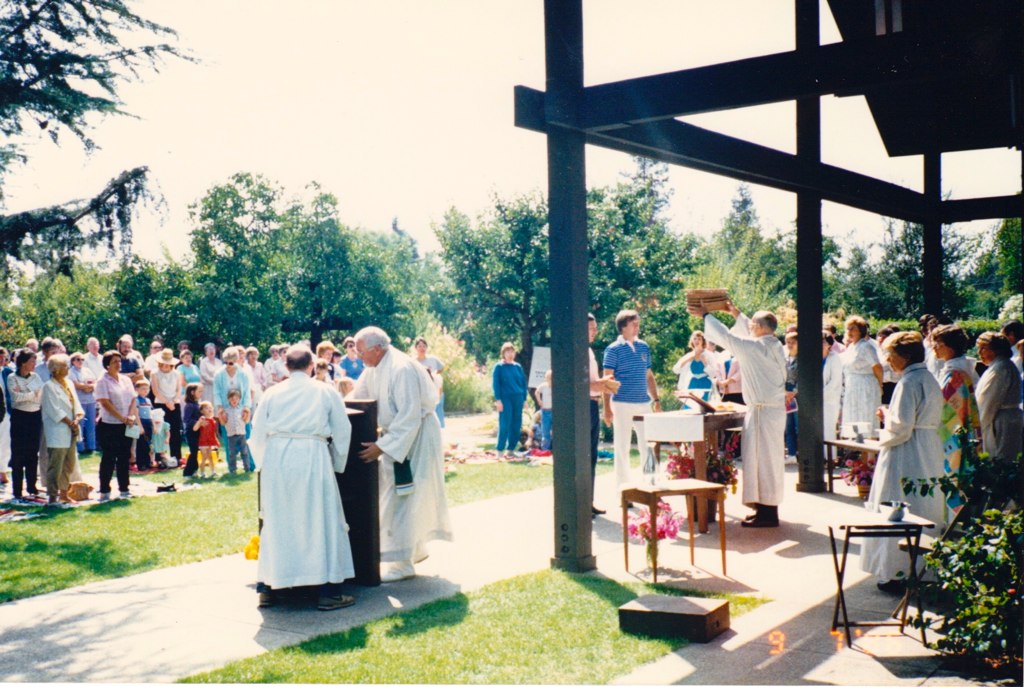 Coffee hour in front of the sanctuary in 1991 before the parish hall was built.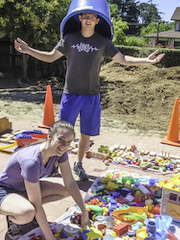 Two of our Youth have fun while cleaning nursery toys on one of our Service Sundays.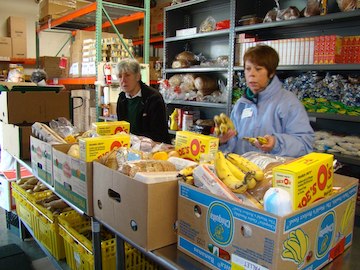 Helping at Santa Maria Urban Ministry in San Jose. We have supported "SMUM" since it was started in 1983, with both monetary and on-site work.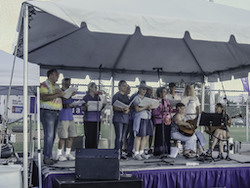 A St. Jude's team walks and performs at the annual American Cancer Society Relay for Life.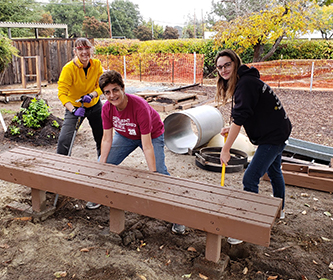 St. Jude's parishioners helped demolish the old classroom playground courtyard on our campus in 2018.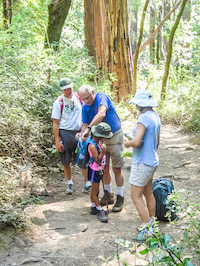 Parish camp, which has camping and activities such as hikes, is an annual tradition for St. Jude's.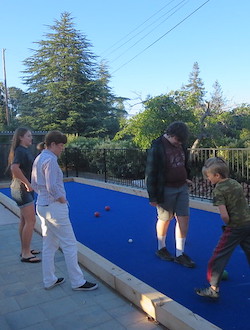 Parishioners enjoy playing bocce ball on our court near the children's playground.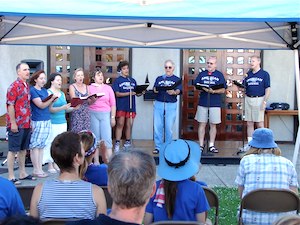 4th of July Talent Show and potluck supper, shown here in 2008. It's fun for the whole family each year.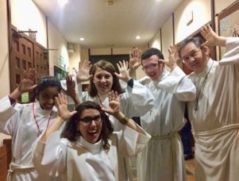 Acolytes and ministers have fun before services in 2016.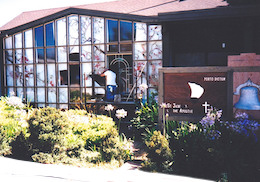 Installing our beautiful apricot windows in the sanctuary in 1994. The apricot has always been a symbol of St. Jude's because of the orchards locally, and our orchard that we maintain today.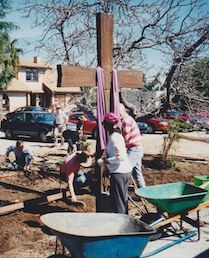 Parishioners complete landscaping for our new Parish Hall in 1996, including our cross which is now located near the entrance to our campus.
Our inner courtyard was renovated in 2011-12, to add a labyrinth, paving, and landscaping where there was once a parking lot.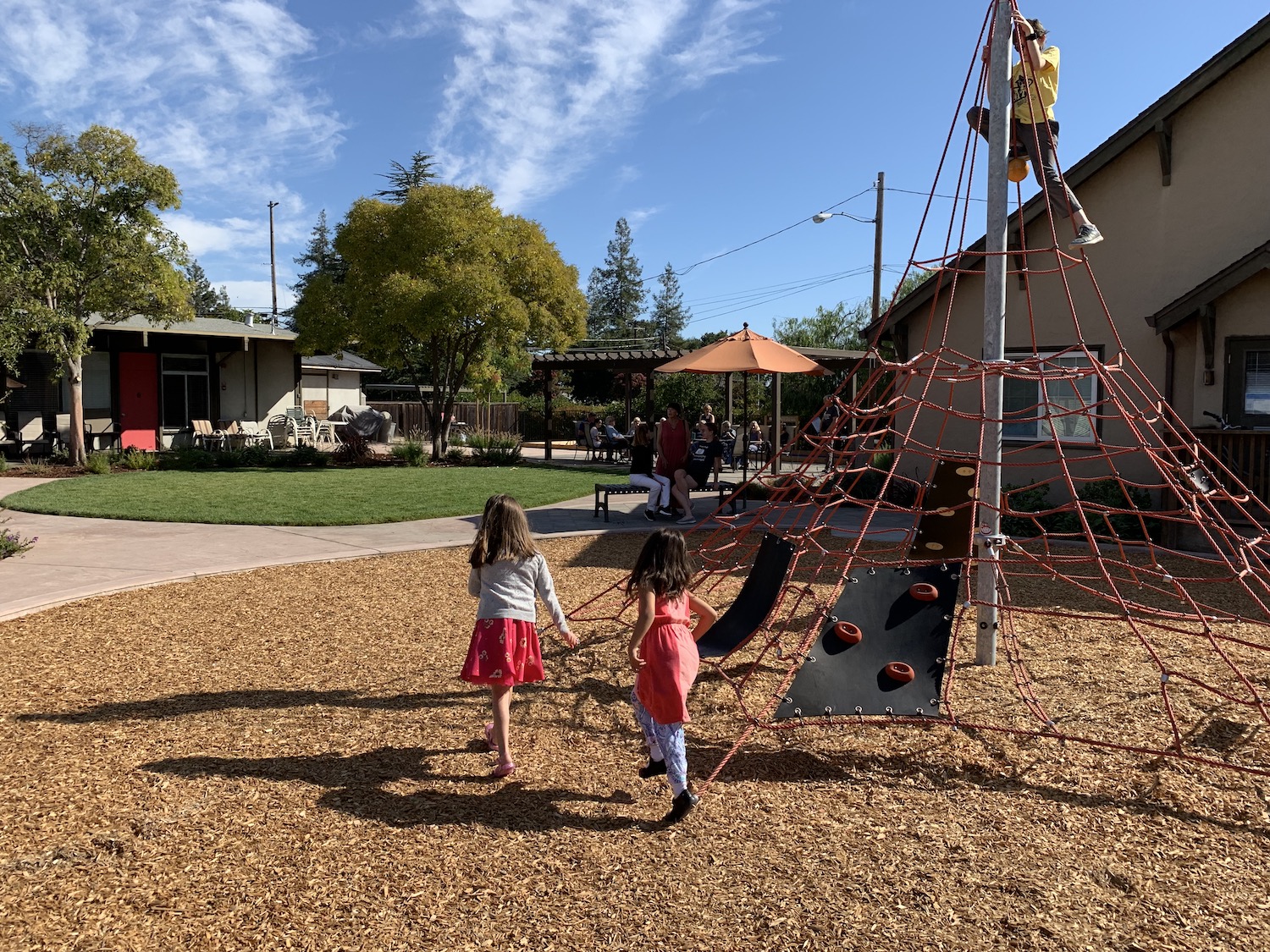 Our classroom courtyard was renovated in 2019, with a new bocce ball court, playground, plantings and large pergola for outdoor picnics.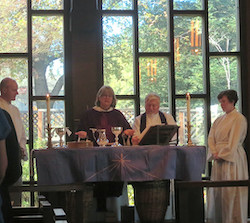 We come together each Sunday (here in 2018) to celebrate the Eucharist, to share "the gifts of God for the people of God."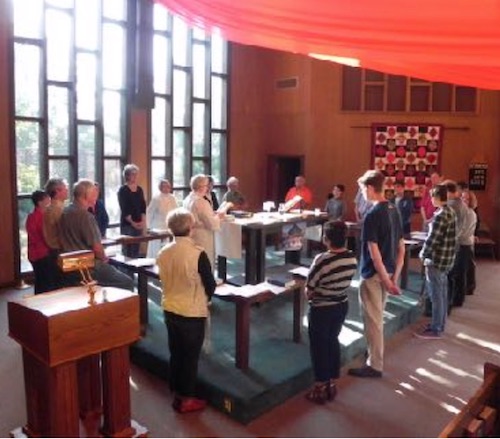 On Pentecost in 2012, with our sanctuary decorated.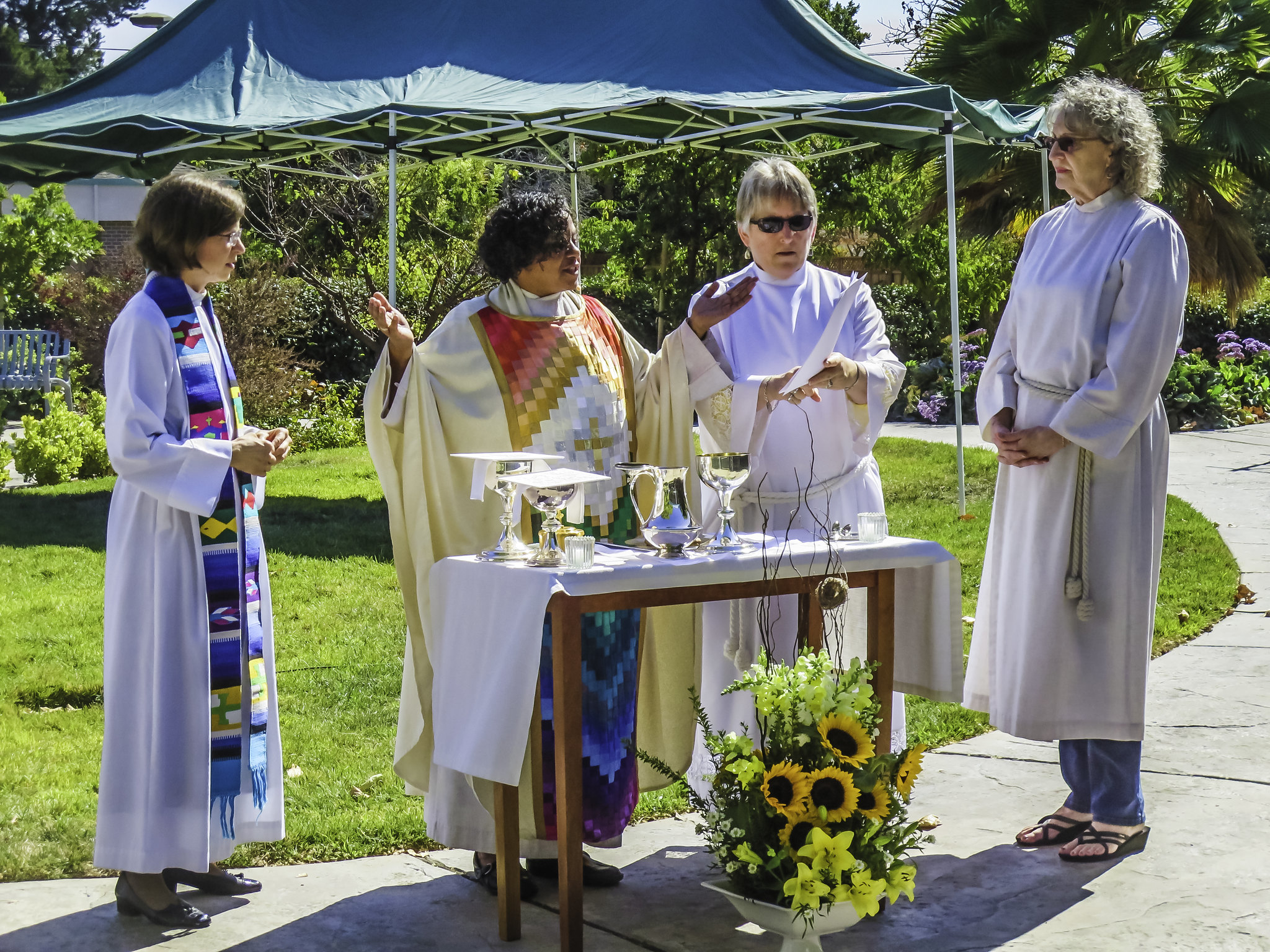 We enjoy special Worship Services together in our courtyard.
We celebrate baptisms and confirmations during our regular worship services, but also celebrate other life events, such as birthdays and anniversaries.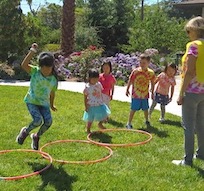 Vacation Bible Camp, which started several years ago, has been a fun and educational time for St. Jude's and community children.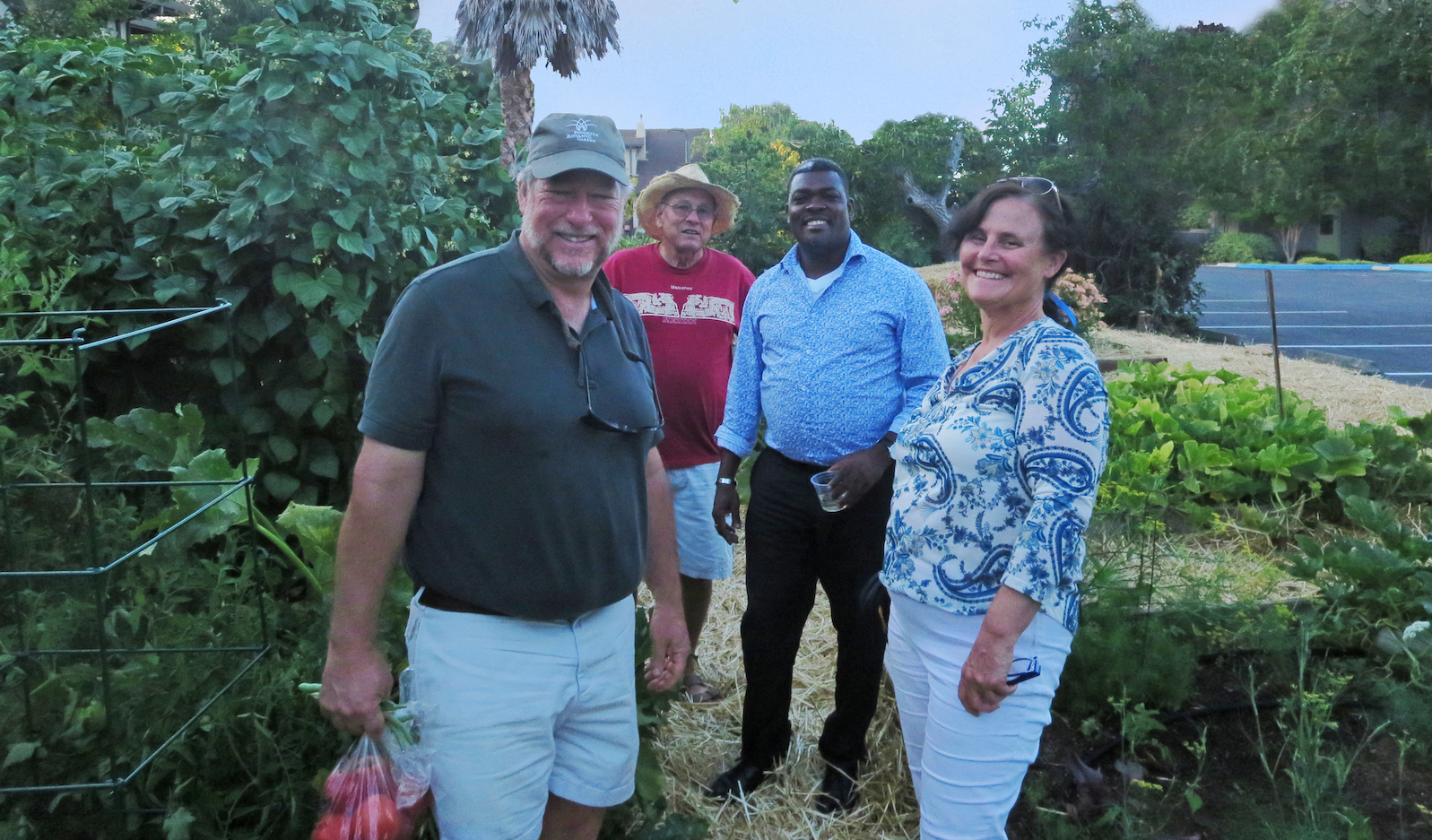 Our new Urban Farm started in 2019 has provides hundreds of pounds of fresh fruits and vegetables to neighbors in need.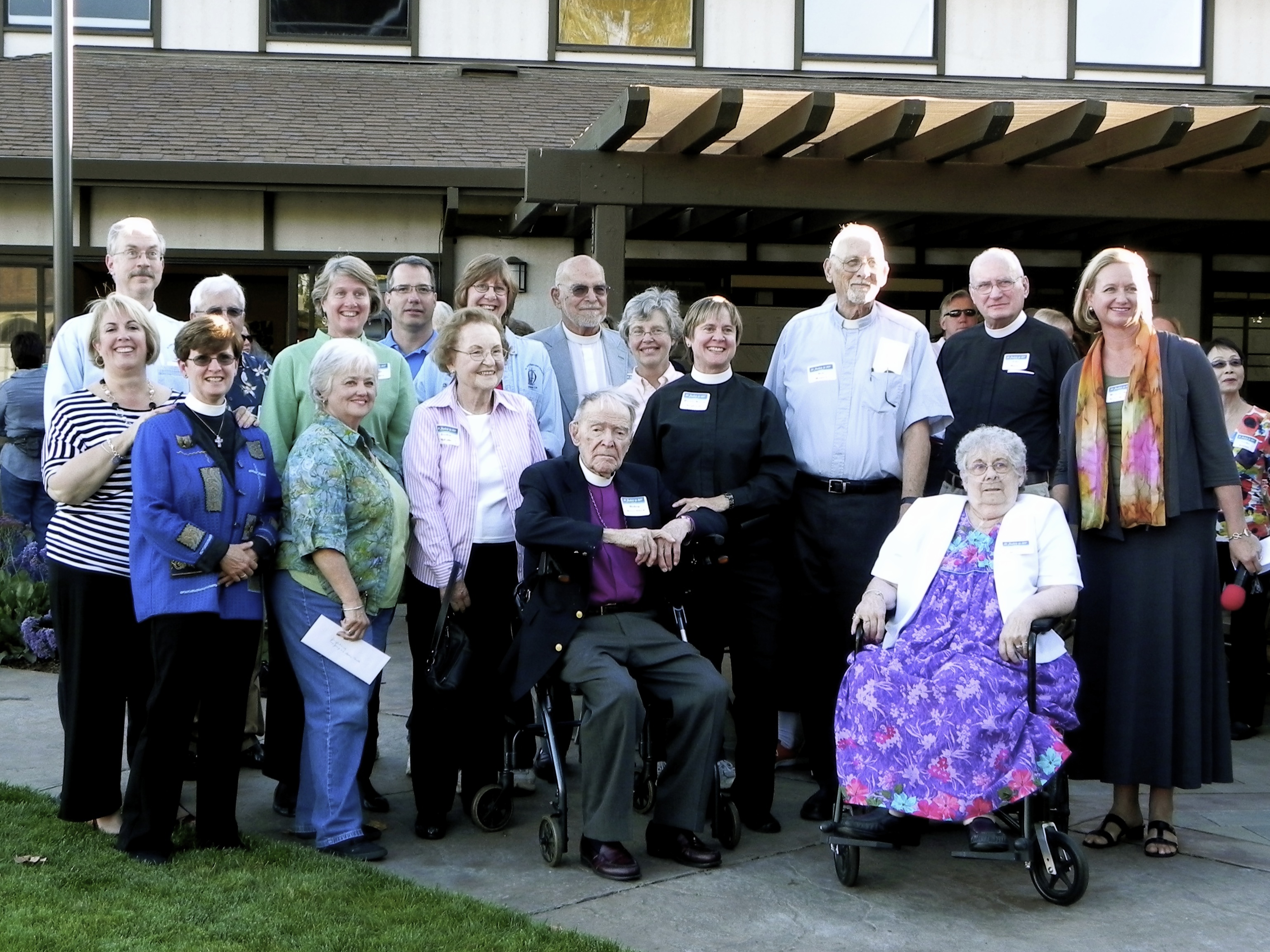 50th Anniversary Celebration in 2012 with Clergy and/or spouses who have served at St. Jude's, and Bishop Mary Gray-Reeves in front of the Parish Hall.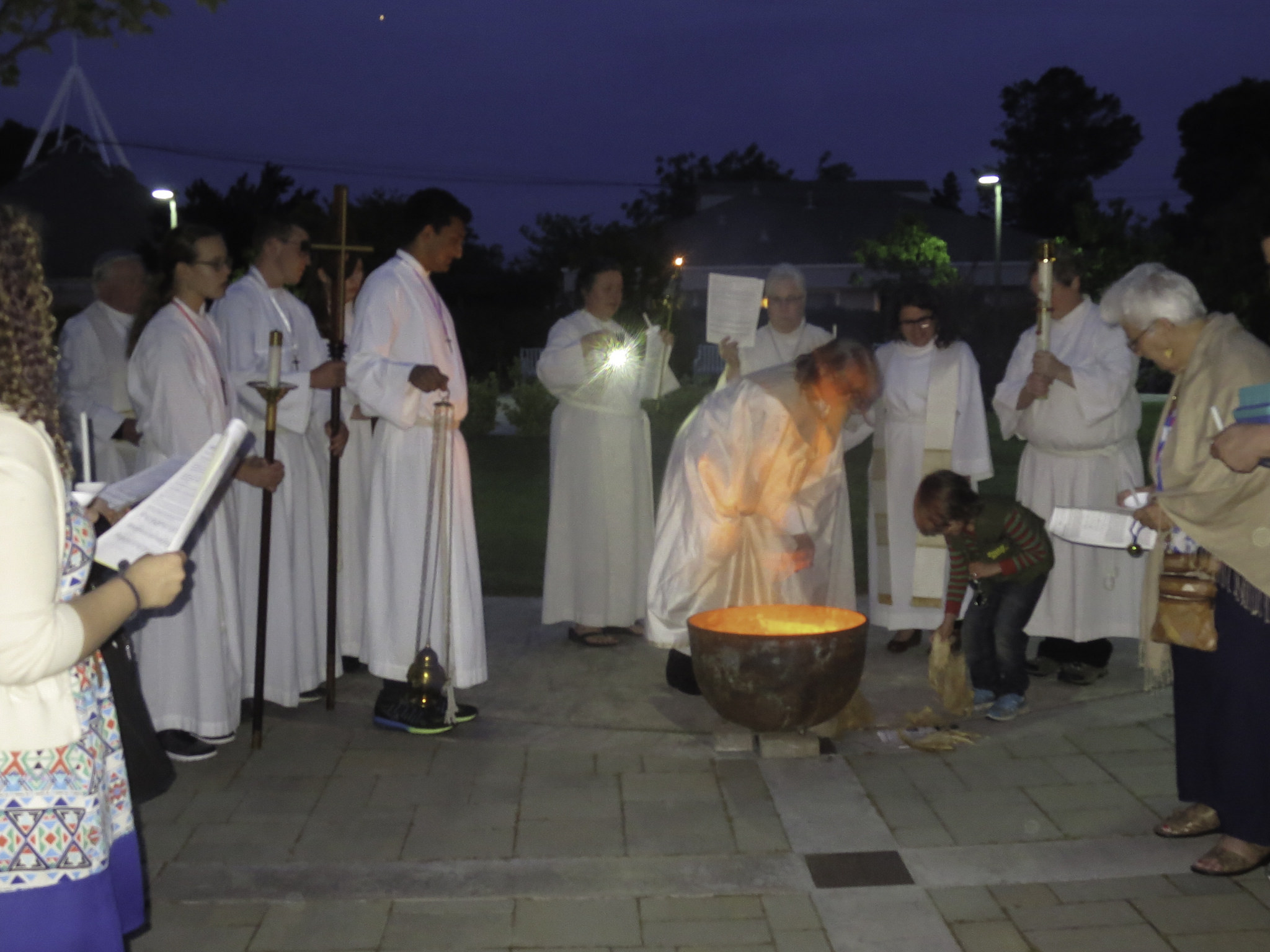 Our Easter Vigil (here in 2017) includes a ceremony to burn the palms from the previous year. There are many special and sacred moments throughout the year at St. Jude's.
Our St. Jude's community makes new memories every year of our time together.  We look forward to creating those memories both with old friends and new friends that will join our community.
Whoever you are, wherever you are on your journey of faith, you are welcome here.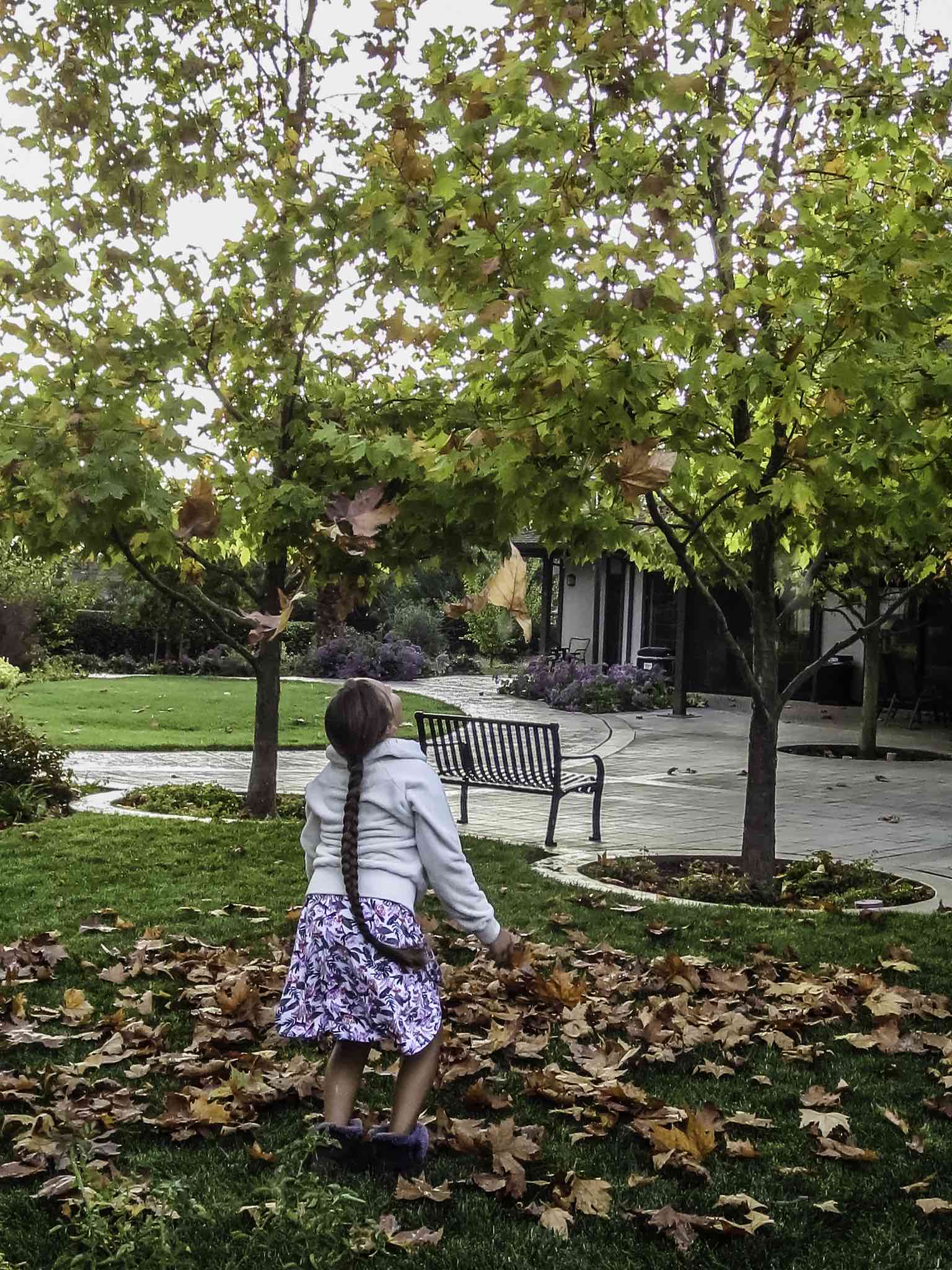 ST. JUDE THE APOSTLE EPISCOPAL CHURCH
20920 McClellan Road
Cupertino, CA 95014
(408) 252-4166
office@saintjudes.org