Children and Youth are the future of our church, therefore are very important to us!
Children's programs are from birth to teens, and our Youth program is for teens until adult.
Children and youth are welcome in worship! We will often have special moments just for them in our online services.
Godly Play (Pre-K to 5th Grade): More information is coming soon for our online Godly Play offerings. Please see box on this page for more information about what Godly Play is.
Child Care (birth to Pre-K): As we are not able to be together on the St. Jude's campus, we are sadly not currently able to offer programs for very young children.
Due to Covid-19 restrictions, we are not able to offer our annual Vacation Bible Camp in 2020. Please check back here in March 2021 for information on camp for 2021. Click here for more information on VBC.
Youth group is just for teens and has Youth Mentors dedicated to supporting this age.
More information is coming soon on our online Youth Group program.
Join the St. Jude's Youth for fun Jackbox online games every Sunday during Coffee Hour! The link to the Zoom session, where the Youth have a breakout room, is found here.
When we are able to be together again, the Youth at St. Jude's enjoy many fun and enriching activities together, including games, cooking chili and outings such as bowling, ski trips and an annual boardwalk trip to Santa Cruz.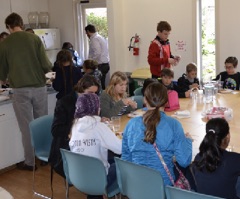 Youth group and Mentors having lunch together in 2017.
What is Godly Play?
Godly Play helps children to explore their faith through stories, and to gain religious language and to enhance their spiritual experience though hands-on play. Based on Montessori principles and developed using a spiral curriculum, Godly Play is for children preschool age up to 5th grade. For more information, click here for the Godly Play website.
When we are able to be together again for services
Due to Covid-19 guidelines, we have suspended our services in our sanctuary, though we have small (<40 person) outdoor services. When we are able to have full services together again, we have a nursery staffed with professional, background-checked caregivers in our Room 1. Children may stay in the nursery during the entire worship service. Parents are welcome to take or pick up their children from the nursery at any time.
During in-person services, children can:
sit with their families

use a small play area with quiet toys near the Altar, with plenty of space for parents to sit nearby (it is located on the left side of our sanctuary)

enjoy the Narthex, which has a rocking chair, small toys/books and speakers which broadcast the worship service.

ST. JUDE THE APOSTLE EPISCOPAL CHURCH
20920 McClellan Road
Cupertino, CA 95014
(408) 252-4166
office@saintjudes.org